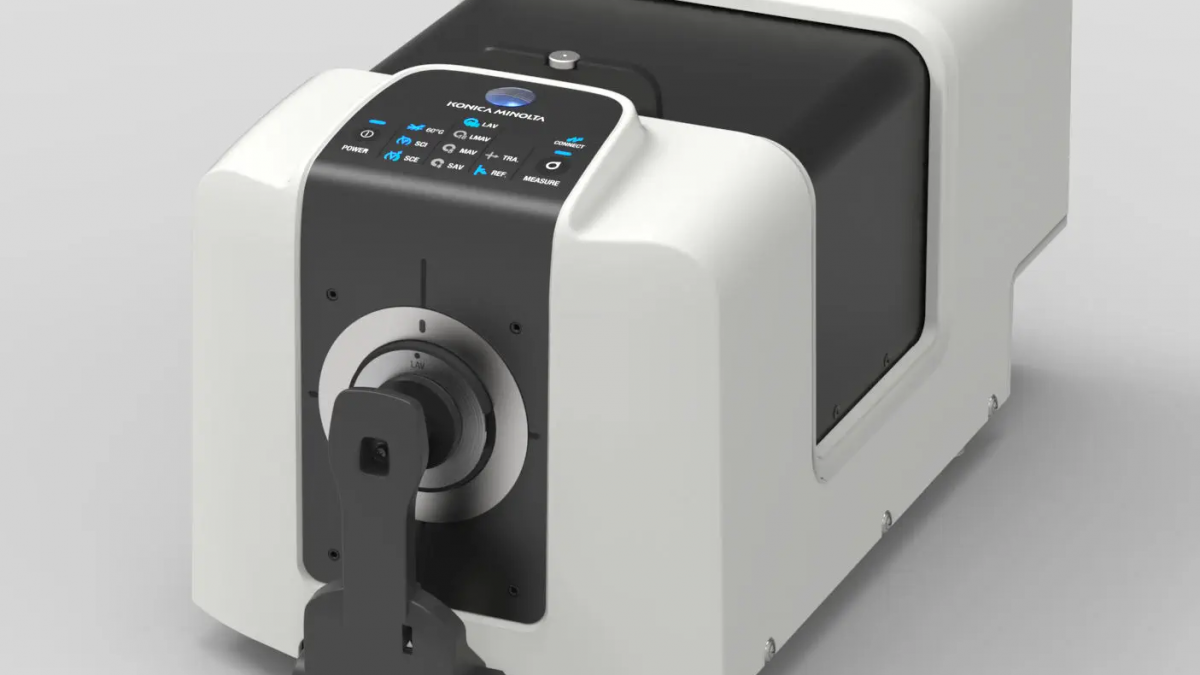 Masaüstü Spektrofotometre CM-36dG
Yatay veya dikey kullanım özelliğine sahip dünyanın ilk renk ve parlaklık ölçme kabiliyetli masaüstü spektrofotometresi, yenilikçi ölçüm teknolojisi ile yansıtma ve geçirgenlik renk ölçümleri alanında en iyi fiyat / performans oranı.
High-precision spectrophotometer with ISO compliant gloss sensor and stability check
The CM-36dG Spectrophotometer is a high-precision and high-reliability bench-top instrument capable of measuring colour either in reflectance or transmittance, ideally suited to a wide range of applications such as Plastics, Paints, Ceramics, Chemicals etc.
For the first time ever, Konica Minolta Sensing has integrated an ISO 2813 compliant 60° gloss sensor inside a benchtop spectrophotometer, to simultaneously measure Colour and Gloss. As both values are measured and reported together operator errors are reduced, the Quality Control workflow can be streamlined and equipment and maintenance costs saved.
The CM-36dG utilizes the patented and proven Numerical UV Control (NUVC), unsurpassed technology for UV adjustments when measuring samples that contain optical brighteners such as pulp, paper, textiles or chemicals.
Several new features have been included to improve the user experience, status LEDs provide clear visual feedback, a camera preview system for sample positioning and reporting, and versatile port alignment allowing the device to be used horizontally or rotated 90° to measure e.g. powdery materials in "Top-port" style.
Konica Minolta's patented technologies assure the highest accuracy and repeatability levels for this class of instrument. Konica Minolta's renowned accuracy and stability is supported by our latest innovation "Wavelength Analysis and Adjustment" (WAA) to give customers the ability to check and adjust the CM-36dG during calibration, assuring that the instrument is in perfect condition. 
Efficient sample presentation
Four screw threads and linear guidelines in the front plate enable the operator to create custom jigs to accurately position samples – maximising the repeatability and speed of the measurement process.
Camera previewer for accurate sample positioning
The integrated camera viewer provides a clear preview of the sample for precise targeting and control the area to be measured. The software can capture images of the area that is measured to provide detailed and concise reporting.
Reflectance and Transmittance measurements, horizontal or top-port 
The CM-36dG can measure solid or liquid samples in reflectance or transmission mode, horizontally or upside down. This offers great flexibility for various samples ranging from opaque to translucent and transparent.
The large, open sided transmission chamber can be used to measure transparent or translucent samples of any size with ease. The transmission chamber lid features a lift-and-turn lock to prevent accidental opening of the device and locks the chamber when used upside down to measure e.g. powdery material in round cuvettes.
Numerical UV Control for Accurate Measurements of Fluorescent Materials
Accurate measurement of materials such as paper or cloth treated with optical brighteners (OBA) requires precise control of the UV component. The patented Numerical UV Control method (familiar to customers who used the CM-3600A) provides UV control by using proprietary calculations to combine the results from flashes of two xenon lamps: one with full UV energy, the other with UV energy removed by a UV-cutoff filter (either 400 nm or 420 nm). This method eliminates the need for lengthy filter position adjustment processes, and enables UV adjustment by Whiteness Index, Tint, Brightness, or UV profile.
Easy to read LED indicator panel with measurement button
The LED indicator panel displays current measurement settings at a glance.
In addition, the measurement button in the panel allows to measure samples remotely.
Measurement Areas to match your samples
The CM-36dG offers four different apertures with Ø 4.0, 8.0, 16.0 and 25.4 mm to provide a suitable measurement size for any sample.
"Wavelength Analysis & Adjustment" – (WAA) 
"Analyze - Adjust - Activate" - Konica Minolta's patented technology checks and adjusts possible wavelength shift during each instrument calibration. This procedure assures unsurpassed long-term measurement stability and can keep measurements stable even for changes in temperature or environment conditions over time.
WAA allows the operator to easily distinguish whether the instrument itself is the cause of measurement differences, reducing troubleshooting time and providing improved certainty within supply chains.
Masa üstü Spektrofotometre CM-36dG
Color
Aydınlatma / Görüntüleme sistemi
Reflectance:

di:8°, de:8° (difüse aydınlatma, 8° gözlemci)

CIE No.15 (2004), ISO7724/1, ASTM E1164, DIN 5033 Teil7, JIS Z 8722 uyumlu.

Transmitans:

di:0°, de:0° (difüse aydınlatma, 0 derecede gözlemci)

CIE No.15, ASTM E-1164 ve DIN 5033 Teil 7 uyumlu.

Entegre küre
Ø152 mm
Dedektör
İkili 40 parça fotodiyot dizisi
Spektral ayırma aracı
Düzlemsel kırınım ağı
Dalga boyu aralığı
360-740 nm
Dalga boyu adımı
10 nm
Yarım bant genişliği
Yaklaşık 10 nm
Ölçüm aralığı
0-200%
Çözünürlük: 0.01%
Işık kaynağı
3 Xenon lamba (NUVC)
Işık kaynağı ömrü
1 Milyondan fazla
Aydınlatma / Ölçüm alanı [mm]
LAV: Ø30.0 / Ø25.4

LMAV: Ø20.0 / Ø16.0

MAV:Ø11.0 / Ø8.0

SAV:Ø7.0 / Ø4.0

Trans: Ø24.0 / Ø17.0

Ölçüm süresi
Yaklaşık 3,5s (SCI + SCE ölçümü)

Yaklaşık 4s (SCI + SCE + parlaklık ölçümü)

Min. Aralık Ölçüm süresi
Yaklaşık 4s (SCI +SCE ölçümü)

Yaklaşık 4,5s (SCI veya SCE ile birlikte parlaklık ölçümü)

Tekrarlanabilirlik
Std. sapma ΔE*ab 0.02 aralığında
IIA (Cihazlar arası uyum)
ΔE*ab 0.12 aralığında (LAV/SCI)  12 BCRA Series II ile alınan ölçümlerin ortalamasının master cihaz ile kıyaslaması.
UV kontrol
NUVC*1 (UV100 (Full UV), UV400nm, UV420nm, UV0)
Parlaklık
Ölçüm geometrisi
60°
(ISO 2813, ISO 7668, ASTM D523-08, ASTM D2457-13, DIN 67530, JIS-Z8741, JIS-K5600 uyumlu)
Işık kaynağı
Beyaz LED
Dedektör
Silikon fotodiyot
Ölçüm aralığı
0-200 GU
Çözünürlük: 0.01 GU
Ölçüm alanı [mm]
MAV: Ø10.0 x 8.0
SAV: Ø3.0
Tekrarlanabilirlik (MAV)
0-10 GU: within 0.1 GU
10-100 GU: within 0.2 GU
>100 GU: within 0.2% of indicated value (Standard deviation)
(10 saniye aralıklarla 30 defa ölçüldüğünde)
IIA (MAV)
0-10 GU: ±0.2 GU
10-100 GU: ±0.5 GU
(Konica Minolta standart koşulları altında referans cihaz ile ölçülen değerlerle karşılaştırıldığında)
Örnek görüntüleme
RGB Kamera
Performans kontroşü*2
WAA (Dalga boyu analiz ve ayarlama) Teknolojisi
Arayüz
USB 2.0
Operasyon sıcaklık / nem aralığı
13-33°C / rH 80% veya daha az (35°C 'de) yoğuşmasız ortam
Saklama sıcaklık / nem aralığı
0-40°C / rH 80% veya daha az(35°C 'de) yoğuşmasız ortam
Boyut [mm]
 248×250×498 mm
Ağırlık [kg]
 8.4 kg
*1 NUVC (Numerical UV Control) adjustment requires UV Adjustment Software (included with optional SpectraMagic NX Pro Ver. 3.2 or later).
*2 WAA license purchase required.
Specifications and appearance subject to change without notice.